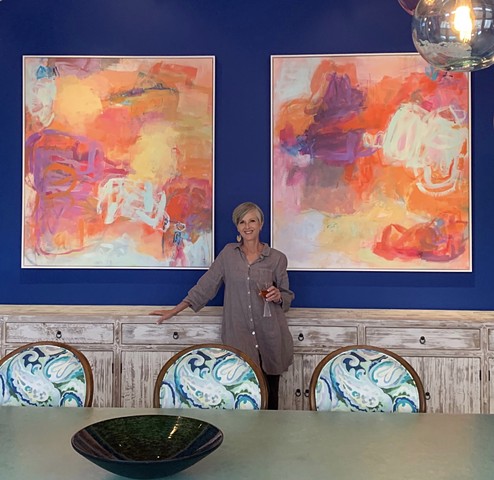 I see in swaths of color, texture and light. I am inspired by the lyrical movement and biomorphic forms in luscious, impasto paint while creating a joyous, spirited feeling. Oftentimes I start a painting with just a few premises, such as color and mark making, to drive where I am to focus next. This allows for a totally free and intuitive process.
I took up my brush in earnest in 2010 while spending more time in Florida. I worked in oils and realism but knew I was missing something. Acrylic and abstract painting allow me to give a visual voice to my inner world and creating has become an important part of my life. I count myself extremely lucky to be able to paint daily.
I'm represented by Allison Sprock Fine Art, Charlotte, NC and Charleston, SC; AnArte Gallery, San Antonio, TX, Art on 7th, Hendersonville, NC; Studio Jeffrey Pa'n, Mystic, CT and Wychwood Art in the United Kingdom.
Stay on top of my latest creations on Instagram @michellemarrastudio
I have studios in Delray Beach, FL; Mystic, CT and Asheville, NC.
Thank you for the opportunity to share my colorful world!